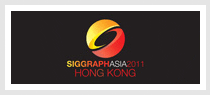 "SIGGRAPH Asia 2011 in Hong Kong"
SIGGRAPH Asia 2011 consists of international conferences and exhibitions.
International conferences make public latest works and research results of digital media and digital content produced by state-of-the-art CG and interactive technologies in seven programs, i.e., Art Gallery, Computer Animation Festival, Course, Emerging Technology, Technical Paper, Technical Sketch & Poster, and Symposium on Apps. In the exhibition, hardware, software, services and solutions in a variety of fields will gather together. We will offer you latest information of SIGGRAPH Asia 2011 in DC EXPO 2011.
Exhibits