Exhibits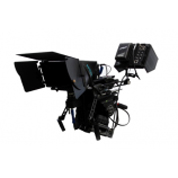 Q-tec Hi-Quality 3D Production System
Q-tec inc.
Q-tec, with its time-proven knowledge, skills and solutions in high-quality image production, has created various stereoscopic 3D contents for theater release, home video release and exhibition use. In our booth, you will find Q-tec Hi-Quality 3D Production System equipped with SSD recorder and compact & portable 3D rig camera of small size but high quality. Our demonstration will prove that it gives you great flexibility and enables you to shorten the preparation time for shooting to a great extent; our system will free you from any stress associated with conventional time-consuming 3D filming. We also provide all the related services; high-quality 2D-to-3D conversion with directions by seasoned S3D stereographers, production planning, shooting support, editing, DCP encoding & duplication, Blu-ray 3D encoding & authoring & replication etc. Q-tec's high-quality total solutions for stereoscopic 3D will help you to expand your business.
*Main Items in the Exhibition
- 2K Format Compact Stereoscopic Camera System
- Compact SSD Digital Video Recorder for 3D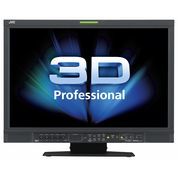 Full HD 3D LCD Monitor/ Real-time 2D-to-3D Image Convertor
JVC KENWOOD Corporation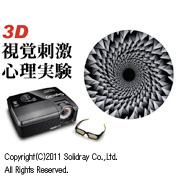 3D visual stimulus and psychology experiment
SOLIDRAY CO., LTD.
"3D visual stimulus and psychology experiment" system consists of VR software "OmegaSpace", compact 3D projector and PC. You can make use of this for your experiment of visual stimulus and psychology.
・Can provide aural stimulus and reaction force, etc.
・Phantom-omni, FASTRAK, stereophony, HMD and etc are available.
・Dome-screen, CAVE, multi-screen and cylindrical-screen, etc are available.
・Random dot Stereogram is avairable.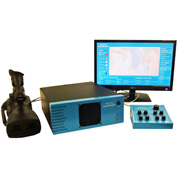 Ergonomic evaluation system for stereoscopic content and the creation technologies
Quality eXperience Design Co., Ltd.
Quality eXperience Design (QXD) introduces the latest technologies based on ergonomics study for evaluation and creation of stereoscopic 3D (S3D) content.
"DepthChecker" is a S3D content evaluation system which enables easy and real time confirmation of parallactic angle at shooting sites for safe and comfort S3D experience.
In addition, S3D content examples, created with the quantitative management tool of parallaxtic distribution and the expression methodology applying human cognitive characteristics etc., are demonstrated.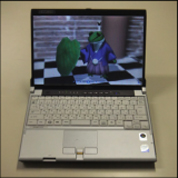 Integral Photography Using Common LCD and Commercially Available Fly's Eye Lens
Yanaka Laboratory, Kanagawa Institute of Technology
Integral photography is ideal in the various 3D display systems because not only horizontal but also vertical parallax is obtained without having to wear special glasses.
However, it is not widespread probably because a very high-density LCD is necessary. Moreover, a fly's eye lens has to be made based on the pixel pitch of the LCD because the ratio of the pixel pitch to the lens pitch should be integer. As a result it becomes expensive. However, this issue can be resolved by our extended fractional view (EFV) method, in which the difference between the LCD and the fly's eye lens is absorbed with our software by using an algorithm that is somewhat similar to that of ray tracing of CG. Therefore, almost arbitrary LCD and almost arbitrary fly's eye lens can be used together to produce high-quality full-parallax image.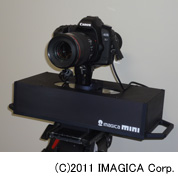 IMAGICA MINI(Stop motion-type 3D shooting system)
IMAGICA Corp.
IMAGICA MINI, which was developed by IMAGICA Corp., is a shooting system for 3D stop motion. It is equipped with one digital still camera on the special RIG and able to capture S3D still images while automatically controlling convergence and interaxial. IMAGICA MINI is a suitable system for stop motion animation and motionless objects in 3D. Now, we are applying for a patent (Patent Pending Number: 2011-145504).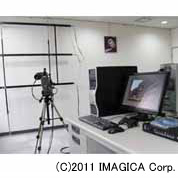 IMAGICA PreVis System
IMAGICA Corp.
This is a PreVis system using Vcam which was developed by InterSence Inc..This system realizes previs work in real-time and interactive and you don't need to take a lot of time for making a CG movie as before. Furthermore, it is useful for S3D which is popular recently in the field of movie making. Creators can examine the effectiveness of
the directional technique and confirm the depth in S3D at the stage of the pre-production. In addition, you can use the previs system in a studio and on location not to mention a meeting room because it's superior in the portability. Therefore, the PreVis system of IMAGICA is particularly effective in the case that you want to confirm many cuts such as movies and dramas in a short time.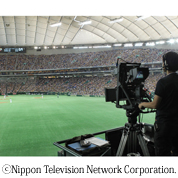 Approach to 3D contents of NTV Group
NIPPON TELEVISION NETWORK/AX-ON/NiTRo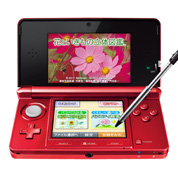 Nintendo 3DS
Nintendo Co., Ltd.
On the Nintendo 3DS, you can enjoy games with 3D visuals without wearing special glasses. The 3D screen will take you to a brand-new gaming world that you have never experienced before, by making you feel a sense of space and depth that extends far into the back of the screen, and also by making characters pop out of the screen.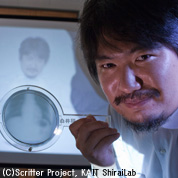 ScritterH:
Shirai Laboratory, Department of Information Media, Kanagawa Institute of Technology
We have enabled the superimposition of multiplexed images on the same screen at the same time with tangible and stable equipment.
Our multiplex images can be seen by wearing special configured polarized glasses, and the image projection method is designed to be based on current 3D stereoscopic technology, which is now prevalent and making rapid progress, thus high compatibility with current contents industries is retained. Therefore our system enables the wide range of applications with new expressions and can easily be put into production.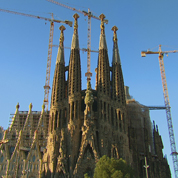 THE World Heritage 3D GRAND TOUR
TBS Television / BS-TBS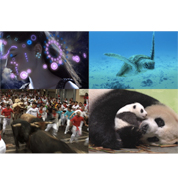 3D☆3D Sunday・3D
FUJI TELEVISION NETWORK,INC. / FUJI SATELLITE BROADCASTING,INC. / Sony / KYODO TELEVISION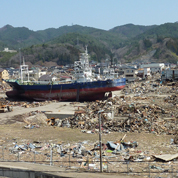 「3D The Great East Japan Earthquake and Tsunami」
NHK Media Technology,Inc.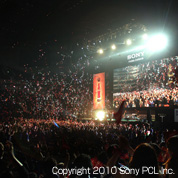 3D LED - Sony PCL 3D EXPERTS -
Sony PCL Inc.
■ Main Features of 3D LED
① A Distinctive High-Luminance 3D LED
② High Resolution
③ Vastly Wider Viewing Angle

■ Sony PCL 3D EXPERTS (3D Total Solutions)
From High-Definition production utilizing our original 3D Rig to efficient 3D postproduction by iQ Pablo. "3D Blu-ray" authoring and event show management showcasing the large-sized 3D LED display and much more. We will respond to any support request and various needs for 3D.

More information ---> www.sonypcl.jp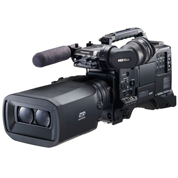 Integrated Twin-Lens 3D Camera Recorder
Panasonic Corporation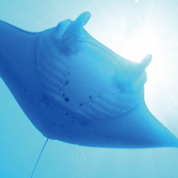 3DJourney
Nippon BS Broadcasting Corporation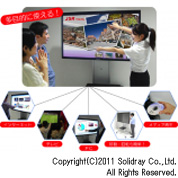 Multi-touch large monitor
SOLIDRAY CO., LTD.
Multi-touch large monitor "DuoTouch" 52 inch
◆multi-touch technology.
Can operate intuitively.
◆For showroom, presentation, TV, PC, etc. You can use for various scene.
◆Carry easily.
◆Can put it vertically, horizontally.
◆Sample effect "Ripple of water" is available.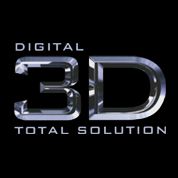 DIGITAL 3D TOTAL SOLUTION
OMNIBUS JAPAN Inc.