The XPAND Code, Super Contactless Linking Tool
XPAND K.K.
XPAND Code is a super contactless link tool for smartphones that can be used in conjunction with QR Code.
It compensates for the weaknesses of the QR Code, such as harmony with the landscape and design, and reading the code from long distances.
At a football stadium, we have successfully read the XPAND Code from a distance of 215 meters.

When read from the same distance, XPAND Codes can be installed in less than 20% of the area of a QR Code.
Use the QR Code for short distances and small spaces, and use the XPAND Code for long distances, large spaces, and places where high design quality is required.
This allows you to make the most of limited space and link from any physical object to your smartphone.
It can help create new services, such as linking store signage and delivery vehicles to smartphones.

Both XPAND Codes and QR Codes can be read by the same apps.
In addition, we have also launched a reading app with no installation required.

The XPAND Code can be downloaded immediately from a dedicated website.
Moreover, a free plan is also available.

We invite you to try this new experience of connecting things to your smartphone.

Try It and You'll See!

The XPAND Code is available for free immediately.
Please try it!
XPAND Code Generator
What's New
Please visit our social media for updates!
Facebook (Covering 43 languages) / Twitter
XPAND Code World Tour
The XPAND Code World Tour is being conducted with the aim of spreading the XPAND Code on a global scale.
This tour was made possible by our successive selections by the Japanese government, Tokyo Metropolitan Government, JETRO (Japan External Trade Organization) and other public organizations..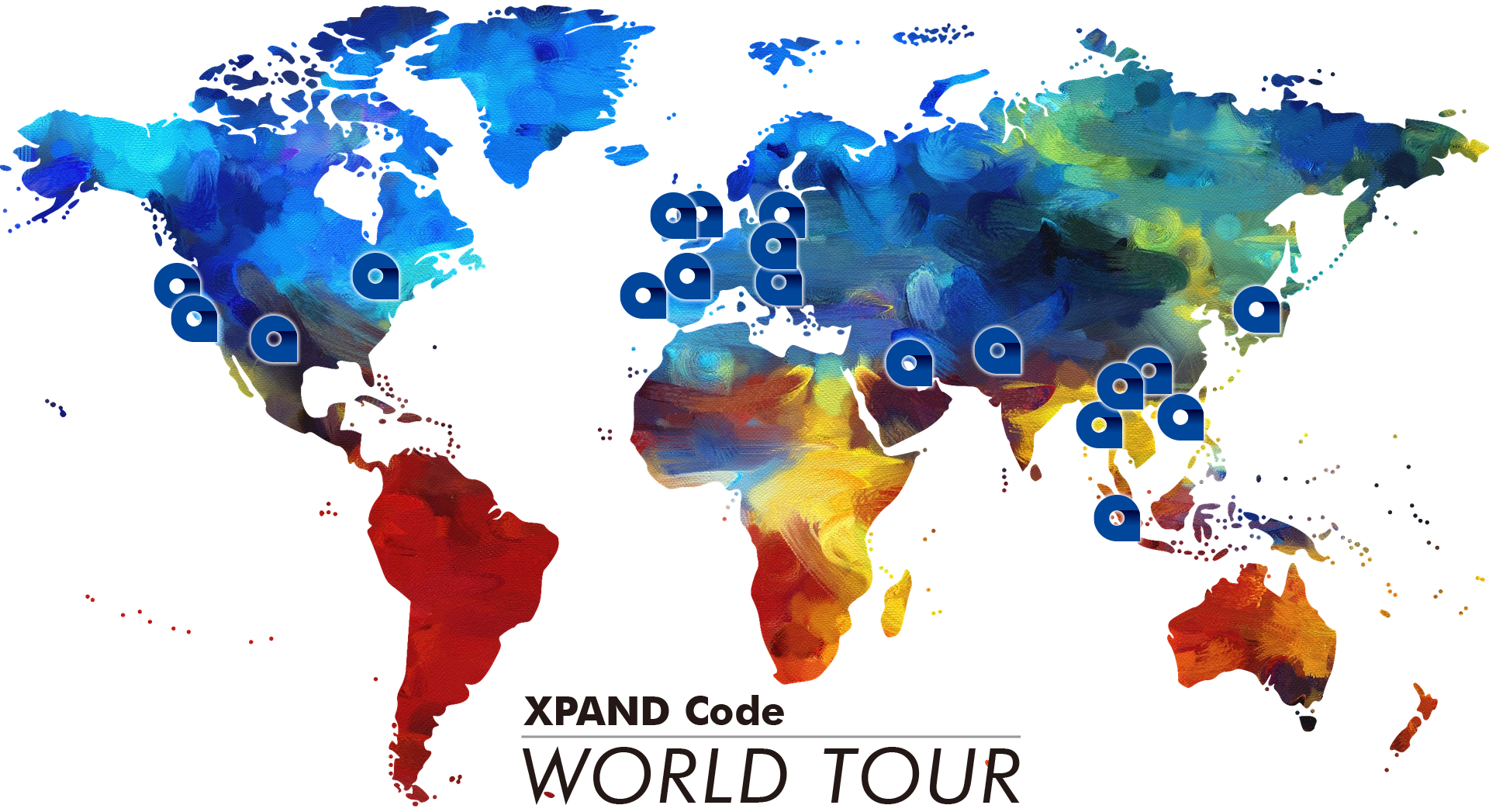 –IFA NEXT Japan Pavilion (Sep 2019; Berlin, Germany; Selected by the Japanese Government)
–Tech in Asia (Oct 2019; Jakarta, Indonesia; Selected by JETRO)
–CEATEC Tokyo Business Frontier (Oct 2019; Chiba, Japan; Selected by the Tokyo Tokyo Bussiness Frontier)
–Innovation Leaders Summit (Oct 2019; Tokyo, Japan; Recommended by Japan Finance Corporation)
–High-Tech Fair (Nov 2019; Shenzhen, PRC; canceled; Selected by the Japan Chamber of Commerce and Industry)
–ISPO Tokyo Pavilion (Jan 2020; Munich, Germany; Selected by the Tokyo Metropolitan Government)
–Techsauce Global Summit J-Startup Pavilion (Oct 2020; Bangkok, Thailand; Selected by JETRO)
–IGNITE (Oct 2020; Manila, Philippines; Selected by JETRO)
–ITU Virtual Digital World (Oct 2020; Hanoi, Vietnam; Selected by the Japanese Government)
–TechDay (Nov 2020; New York City/Los Angels, USA; London, UK; Selected by JETRO)
–Digital Content EXPO (Nov 2020; Tokyo, Japan; Selected by Digital Content Association of Japan)
–Web Summit (Dec 2020; Lisbon, Portugal; Selected by the Tokyo Metropolitan Government)
–DesignInspire (Dec 2020; Hong Kong)
–GITEX Future Stars J-Startup Pavilion (Dec 2020; Dubai, UAE; Selected by JETRO)