METI has created a "Strategic Technology Roadmap (STR) - Content-related Field," a roadmap which shows the elements thought necessary to create new industries and value through the utilization of digital content. Focused on the suggestions of this roadmap, ConTEX will feature demonstrations and seminars on the content technology of the future and the latest research and cutting-edge products which will make this technology a reality.
Program organizer: ConTEX Organizing Committee


At ConTEX, visitors will be able to experience the latest content-related technology being developed by universities, research institutions and businesses. Although the influence of Japanese content is growing via such media as video games and anime, the focus of technology development seems to recently be shifting to other regions, a process being termed "Galapagozation" in Japan. This shift is causing some to fear that Japanese technology may become unable to meet the needs of the global marketplace. On the other hand, if we interpret Galapagozation as "unique evolution," then there's nothing bad about it, and indeed, it may even be thought of as "Japanese originality." The problem is not Japan's independent evolution, but the fact that other regions are too closed off. The R&D being done for Japanese content-related technology in areas such as robotics, 3D displays and sensory media is globally advanced, and draws a lot of attention at international meetings and exhibitions. Under the theme of Beyond "Galapagos," ConTEX will aim to build a bridge from Japan to the rest of the world and spread the word about the latest "cool Galapagos" technology. Even on the smallest of the Galapagos Islands there are a diverse array of life forms, among them Darwin's finches. It has been 201 years since Charles Darwin wrote his Origin of Species based on his experiences on the Galapagos Islands. We invite you to visit ConTEX and take on the role of a 21st century Darwin; come explore the variety of interesting and somewhat different technology on display and learn about how it will evolve in the future.


『3D Shot Cam/Twimal』
TOMY Company,Ltd
『Loveplus iM iR iN』
Konami Digital Entertainment
『AirStrike Plug'n Play』
LM3LABS CORPORATION
『The Mix Reality Goban 』
LM3LABS CORPORATION
『RT2CharaAR Project』
KAIT Kojima Lab,IMAGICA Corp.,Premium Agency Inc.,IBM Japan Corp.
『Assimilate Scratch Software 3D DI work flow system』
Technology Joint Corporation
『Design review and mobile』
Technology Joint Corporation
『Sense-Roid』
The University of Electro-Communications, Kajimoto laboratry
『RePro3D』
The University of Tokyo / KeioUniversity
『Pen de Draw』
The University of Tokyo / KeioUniversity
『Immersive Rail Shooter』
Laval Virtual & L'Ecole deDesign de Nantes Atlantique
『HINOCO 〜Creatures livingon the curtain〜』
Department of Computer Science and Engineering,Toyohashi
『TimeScope』
ASTEM RI/KYOTO
『EN-Vision』
JAPAN BROADCASTING CORPORATION
Science & Technical Research Laboratories
『c-loc software ver.2』
Noguchi Laboratory, Department of Interactive Media, Tokyo Polytechnic University
『Sound Forest』
Graduate School of Media Design, Keio University + S.M.ELECTRO
『Tag Candy』
Yasuaki Kakehi Laboratory, SFC, Keio University

『Cybernetic human HRP-4C』
10/16,Sat.
13:15-13:25
16:00-17:00

10/17,Sun
11:00-11:10, 13:15-13:25, 16:15-16:25

Center Stage, 1st Floor, Miraikan

Cybernetic human HRP-4C

MIKI
MIYU FRIENDS

CHIYOMI
MIYU FRIENDS

SACHI
MIYU FRIENDS

RISA
MIYU FRIENDS
『HRP-4C Talk Session』
10/16,Sat.
16:00-7:00


Center Stage, 1st Floor, Miraikan

Kazuhito Yokoi

SAM
dancer

Masaru Ishikawa
Executive Producer

Shinichiro Nakaoka

Osamu Ooshima
『FUTURE OF MAKING』
10/16,Sat.11:00-11:50

Center Stage, 1st Floor, Miraikan

Akihiro Kubota
Tama Art University Faculty of Art and Design, Department of Information Design
Professor

Takumi Funada
『The Possibility of Nico-Tech as user community』
10/17,Sun.12:00-12:55

Center Stage, 1st Floor, Miraikan

Akira Noda
The section NicoNico Tech.

Housuke Nojiri
SF writer

Seiji Tsunashima
Tap Inc.

Norihito Oguro
SOMESAT organizer

『Leaving Galapagos』
10/15,Fri.15:20-16:50

MIRAI CAN Hall, 7th Floor, Miraikan

Nakamura Ichiya
professor

Nobuo Kawakami
Dwango Company, Limited

Toshiyuki Inoko
TEAM LAB

Keisuke Murakami
『Anthropomorphic Japan: Anthropomorphic characters created in Japan talk about making things』
10/16,Sat.13:30-15:00

MIRAI CAN Hall, 7th Floor, Miraikan

Itaru kuramoto
Associate Professor

Satoshi Endo
General Manager

Masayoshi Sakai

Fugen Shikishima
illustrator

『Let's start video streaming!』
10/16,Sat.14:00-16:30

Orientation Room, 1th Floor, Miraikan

Akihiko Iyoda
Dwango Company, Limited

Naoto Oohara
『Training lecture for VOCALOID-P』
10/17,Sun.10:30-12:00

MIRAI CAN Hall, 7th Floor, Miraikan

Hideki Kenmochi

Iriyama Tatsuya

Osamu Matumura
YAMAHA Digital instructor

rama-z

kobayashi onixys

dios/signalP
『AR Handcraft Workshop』
10/17,Sun.14:00-16:30

Conference Room 2, 7th Floor, Miraikan

Sunao Hashimoto
Researcher


『The 4K Digitization of 70-mm Film for Dome Theater』
10/14,Thu.14:50-15:30

Innovation Hall, 7th Floor, Miraikan

Fumihiko Kamemura
DMC Center
Researcher
『Azumi no Yawarakai Haru』
4K Film Panel Discussion
10/14,Thu.12:20PM-13:30PM

Innovation Hall, 7th Floor, Miraikan

Toru Koyama
Panasonic Visuals
Technical Producer
『SATOYAMA』
10/14,Thu.14:30-15:30

Innovation Hall, 7th Floor, Miraikan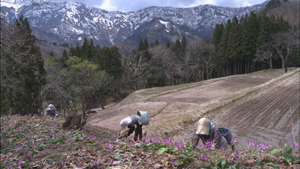 (C)nep/NHK

Yasuhiro Ono
NHK Enterprises
EXECUTIVE PRODUCER

Jyunji Aoki
CAMERAMAN

Tabata Hideyuki
Engineer
『"Pierrot": 4K Narrative Story Telling』
10/14,Thu.13:50PM-14:30PM

Innovation Hall, 7th Floor, Miraikan

Janak Bhimani

Fabien Delmotte
『4K horizon: a future of digital terrestrial broadcasting - Imaginations of frontier at the next-gen image technologies』
10/14,Thu.16:00-17:00

Innovation Hall, 7th Floor, Miraikan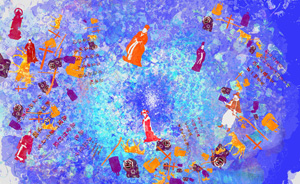 Hayakawa Takahiro
Artist / Animaton Director

Shirai Akihiko
KANAGAWA Institute of Technology
associate professor

Tereda Kazunori
NHK Enterprises
『Extreme High Definition 4K Film Production:The Dream of Kaguya - the moon and Japanese, two tales of 'Kaguya'』
10/14,Thu.12:20-12:50

Innovation Hall, 7th Floor, Miraikan

10/17,Sun.
11:00-11:30
16:00-16:30

Innovation Hall, 7th Floor, Miraikan