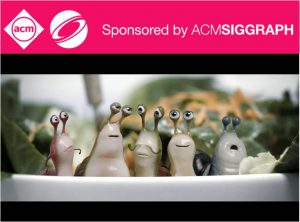 "Computer Animation Festival (CAF)" is one of the most popular programs of SIGGRAPH, the world's largest international conference on CG and interative technology.
In CAF 2016, an internationally recognized jury receives hundreds of submissions and presents extinguished works of the year.
We are happy and honored to hold the screening of CAF works in DCEXPO2016.
Enjoy the show!
Special thanks to
ACM SIGGRAPH
TIME

October 30, Sunday
4:05PM-5:00;PM (Doors Open 3:55PM)

PLACE

Center Stage, 1st Floor