Innovative Technologies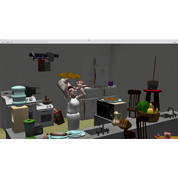 "Whirled Worlds": twirling interface for "mobile ambient," "practically panoramic" whole-body entertainment
University of Aizu Spatial Media Group; Eyes, JAPAN; GClue
We are developing a variety of virtual scenes to support this experience, which allow seamless switching among the avatars and their locales, including setting, costume, actor, and prop. This "exertoy" or "exergame"' represents an active interface, a physical interface for whole body interaction. Its groupware capabilities encourage social interaction through physical play, as a novel controller for musical renderer. It's a "come as you are" mo-cap-style interface, requiring no special markers or clothing. Direct manipulation gives immediate multimodal feedback, with intimate linkage between control and display, in either static (pointing) or dynamic modes (spinning and whirling).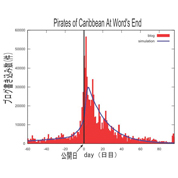 Mathematical model for hit phenomena
Prof. Akira Ishii, Department of Applied Mathematics and Physics, Tottori University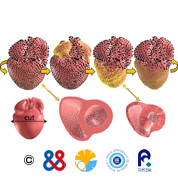 User-friendly Real-time Heart Beat Simulator
National Cerebral and Cardiovascular Center Research Institute; Department of Computer Science, The University of Tokyo;, Department of Cardiovascular Medicine, Shiga University of Medical Science; Bio-Research Infrastructure Construction Team, Riken.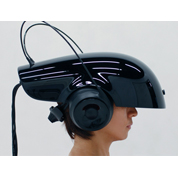 Substitutional Reality: SR
RIKEN, Brain Science Institute, Laboratory for Adaptive Intelligence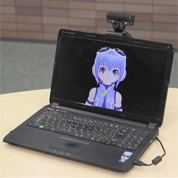 Facial Expression Mimicking Avatar System
Mitsukura Laboratory, Department of System Design Engineering, Faculty of Science and Technology, Keio University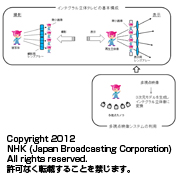 Integral three-dimensional television
NHK (Japan Broadcasting Corporation)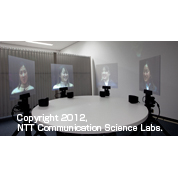 MM-Space: Meeting Space Re-Creation for Next Generation Video Conference
NTT Communication Science Laboratories
As a significant step toward next-generation video conferencing, MM-Space re-creates the conversation space of remote multiparty meetings; it appears that the remote participants are talking in front of you. MM-Space consists of multiple projectors and transparent screens. Each screen displays the life-size face of a different meeting participant, and they are spatially arranged to recreate the actual scene. The key feature of MM-Space is a new representation scheme/device that physically links screen motion to human head motion. Specifically, the screen pose is dynamically controlled to emulate the actual head motions of the participant, which are measured with visual face trackers. The head motions express important nonverbal information in conversations, such as gaze direction and head nodding/shaking. The physically augmented screen movement can boost viewers' understanding of the meeting interactions such as "who is talking to whom". In addition, the projection of the background-removed human figures enhances the presence of remote people, such that they appear to be actually in the same place.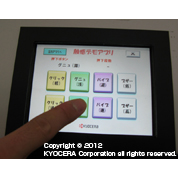 New Tactile Feeling Touch Panel (Real tactile feeling)
Kyocera Corporation
Currently, various equipments have "recognition function of touch" by vibration. However, a tactile feeling on flat and hard panel as if were touching a real key could not have been realized yet.
This time, Haptic technology(Tactile feeling technology) that an illusion by stimulating finger nerve makes human have real tactile can be realized for the first time by using touch panel and piezo.
But only by vibration, it is not possible to create real feeling which makes human perceive "pressure feeling" and "tactile feeling" in touch.
Then, we make piezo take vibration and pressure detection function, and integrate and
create "vibration", "pressure detection", and "timing control" to/by one control module so that the real feeling can be realized.
More over, not only real key feeling but also, various feeling, ex, "soft, hard, jelly type" key feeling can be created too.
From now, this would be applied to increasing touch panel equipments, but is located only in first entrance of "Tactile feeling creation".
We would like to create all tactile feelings for user interface by this trigger and R&D from now.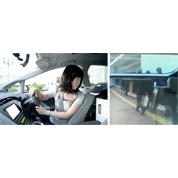 Transparent Prius
Graduate School of Media Design, Keio University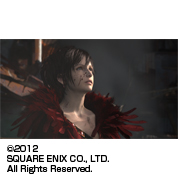 Agni's Philosophy
SQUARE ENIX CO., LTD.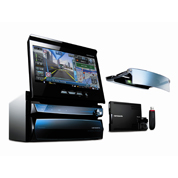 The world's first Head-Up Display to project augmented reality information in front of the windscreen
PIONEER CORPORATION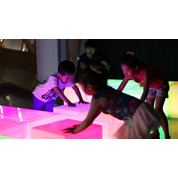 Media block chair
teamLab Inc.
Media Approach consists of 3 male connection, and 3 female connection light cube chairs. The cube, or block, is a stand alone chair. The female and male blocks can be joined together to make a bench, furniture or a wall. When the blocks are joined together information passes from the male block to the female and the color of the female block changes. Freely join the blocks to change the design and color of the space. The action of changing the function of the space changes the space, and the action itself also changes the space, giving enjoyment. This is the concept of "New Value in Behavior".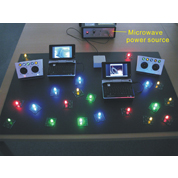 Human Interface Using Two-Dimensional Signal/Power Transmission
Shinoda Laboratory, Department of Information Physics and Computing, Graduate School of Information Science and Technology, the University of Tokyo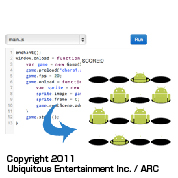 enchant.js
Ubiquitous Entertainment Inc.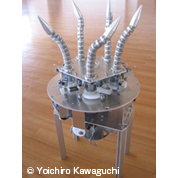 JECCO: A Tentacle Robot
Kawaguchi Lab., University of Tokyo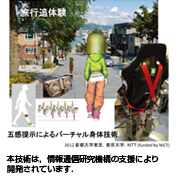 Virtual body technology for reliving the experience of others
Tokyo Metropolitan University, The University of Tokyo, NTT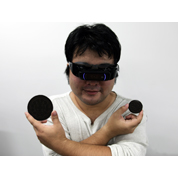 Augmented Satiety
Hirose Tanikawa Lab., Graduate School of Information Science and Technology, the University of Tokyo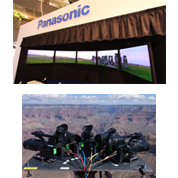 DIVE into World Heritage 3D
Panasonic Corporation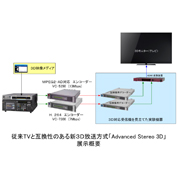 New 3D Broadcast System that is compatible with conventional 2D television set.
NHK Media Technology, Inc.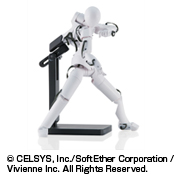 QUMARION
CELSYS, Inc./SoftEther Corporation /Vivienne Inc.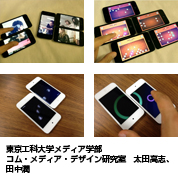 Pinch: an interface for connecting multiple smartphone screens
Tokyo University of Technology, School of Media Science
 We devised a new user interface that relates applications running on multiple mobile devices when the surfaces of juxtaposed screens are merely pinched. The multiple-screen layout can be changed dynamically and instantly even while applications are running in each device. This interface can introduce a new kind of interaction: rearrangement of devices triggers a certain reaction of contents. We expect this interface to show great potential to inspire various application designs, and we
expect to enrich the contents by offering interaction that a single display or a static multi-display environment cannot provide. We developed several applications using it. Although these applications are simple prototypes, we believe these applications can demonstrate the interface's potential for producing various new representations and interactions. We are considering applying this interface to offer face-to-face social contents, since one might call friends to bring their devices in order to play the applications.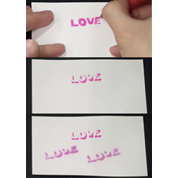 Hand-rewriting
TomokoHashida, Kohei Nishimura and Takeshi Naemura (The University of Tokyo, Naemura Laboratory)
When the user writes on a piece of paper with a pen, for example, the Hand-rewriting system can erase what is written on the paper, and additional content can be written on the paper in natural print-like colors.We achieved this hybrid writing and erasure on paper by combining two technical innovations: ThermoErasure and PhotoScription. The first technology can automatically erase specific areas on paper without using an eraser by selectively heating thermochromic ink using a laser. The second can repeatedly display additional content on the paper in color by projecting UV light on paper coated with photochromic material. We kept external stimuli for erasing and displaying separate so that they do not interfere with each other.
International Partner Program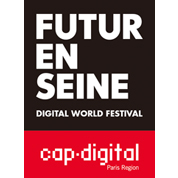 FUTUR EN SEINE / DIGITAL WORLD FESTIVAL 13 - 23 June 2013, Paris Region
FUTUR EN SEINE / CAP DIGITAL
FUTUR EN SEINE PRESENTES
• A projects archipelago: 100 innovative projects and prototypes shown
• 20 conferences: in 2012 among peakers: Paola Antonelli, Curator of the architecture and Design Department at the MoMA, Katie Jacobs Stanton, head of international strategy at Twitter...
• Workshops: To go further, 40 workshops are opportunities to meet designers, researchers, entrepreneurs and designers.
• European Street Design: Challenge Competition of international young designers teams.
FUTUR EN SEINE 2012 KEY NUMBERS
• More than 10 000 visitors at the CENTQUATRE
• 100 companies presented their innovations
• 11 days in the whole Paris Region
• 100 events in 75 partners places
• 250 articles in French and international press
• 90 000 visitors in total The biggest French medias, and internationals as Forbes or Bloomberg TV followed our festival.
HOW TO PARTICIPATE
To participate to Futur en Seine 2013, answer the call for proposal, avalaible on www.futur-enseine. fr in November.
Futur en Seine is an event organized by Cap Digital, the French business cluster for digital content and services in Paris and the Paris Region.
www.futur-en-seine.fr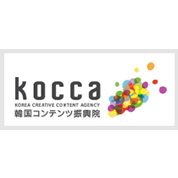 Smart Content Showcase of Korea
Korea Creative Content Agency
Try-it-yourself corner of Mobile Applications
・Reccod Video Camera Pro(Ahiku Corporation):Applications for Smart Live Broadcasting
・PicPlay Pro(JellyBus):Applications for Editing Pictures and Images
・My Wonderful Days, BooksWing(haha Interactive):Applications for Life Styles
・Somnote, Somtodo(Wizard Works):Cloud-based Applications
・MoglueBuilder, MoglueViewer(Moglue):Interactive E-book Software
・Paladog!(FazeCat):Defence Game Applications
・Unforget(Waterbear Soft):Applications for Language Learning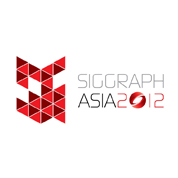 SIGGRAPH Asia 2012
SIGGRAPH ASIA 2012
Participation Programs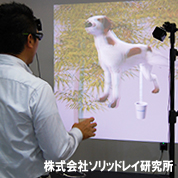 Sensational VR world ~Fusion of 3D images and crossmodal~
Solidray Co.,Ltd.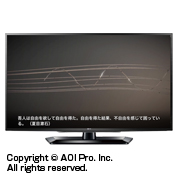 nagarami ~Info-therapy Interior Product in the Age of Smart TV~
AOI Pro. Inc.
The technical point of nagarami is the distribution of video content consolidated in real-time through the "sensory tags" on visuals, feeds, and music.
Different from the tags used by news sites, "sensory tags" are tags that reflect the human emotions and conditions.
Since "IJ (Information Jockeys)" refine and provide the sensory tags, the content distributed is more suited to every situation.
Moreover, the distribution method that is compatible with devices installed with the now widely-used HTML5 (SmartTV, STB, PC, Smartphone) enables users to experience nagarami on a variety of devices.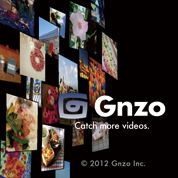 Gnzo - Catch more videos: Multiple Internet Videos Played Simultaneously
Gnzo Inc.
In recent years, Web design has been enhanced by incorporating new multimedia effects and many Web designs have adopted the use of content with multiple images. However, we still see very few Web designs utilizing content with multiple and simultaneous video images.
The reasons for this is the problem of the network overhead becoming too large, or the difficulty in simultaneously running the video decoding process. We at Gnzo have successfully overcome these constraints by utilizing on the server a transcoding technology called "fabric video" which allows clients to play multiple video contents simultaneously as long as they have HTTP, H.264, or MP4 in their regular browsers (including plugins such as Flash and Silverlight).This technology is available as HTML5 and iPhone apps and can be downloaded from Gnzo's homepage (http://gnzo.com/). Gnzo currently provides a Web API licensing service so that the transcoding technology can easily be used via the Web.At Gnzo, we are currently developing a realtime streaming demo as well as Web 3D UI.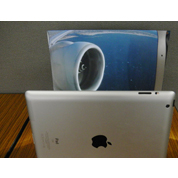 doremo3D
QUASAR TECHNOLOGY INC.
The doremo3D viewer utilizes the principle of light reflection with regard to a curved surface. It can transmit separate figures with pseudo binocular parallax to right and left eyes. Therefore, no glasses are needed. but different from parallax barrier method, tere are no patches in the figure. Also 2D to 3D conversion software, not to speak of the time to convert, is needed. You can immediately enjoy 3D. With regard to stereo viewing based on two 2D images, many one eye region remains. Practically, all the edge area of an object is one eye region. In one eye region, since right and left images are seen alternatively, this area looks twinkling and flat, but unnaturally crisp and sharp. The doremo3D method does not create ome eye region and present very natural three dimentional view.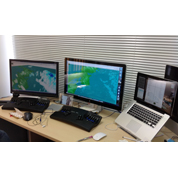 Exhibiting Contents (map, weather,etc) over Broweser in 3D format
Takumi R&D, INC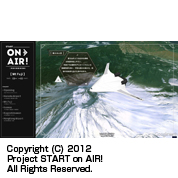 Pluralistic Digital Archives Series
Hidenori Watanave Laboratory at Tokyo Metropolitan University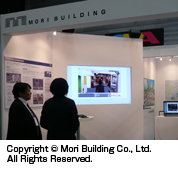 The direction of urban space by Virtual Reality and Augmented Reality technology.
Mori Building Co., Ltd.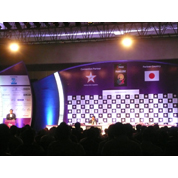 Transmedia Contents trend in India
BOSTON MEDIATECH Co.,Ltd.
The latest trend of Transmedia Contents in India and our high level of digital contens creation skill are presented with actual demonstrations.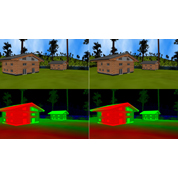 Technologies to create human friendly high-realistic visual contents.
Toppan Printing Co.,Ltd.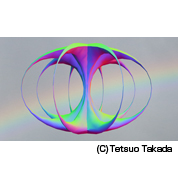 Works of 3D Art
Bunkyo University  Faculty of Information and Communication
What is different from that of freehand drawing in the expression that made full use of a 3DCG technology conclusively in a step of the rebuilding.This is because it can constitute space by a concrete method than it images an idea in a freehand drawing.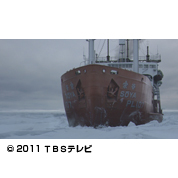 Ultimate VFX created for a drama
TOKYO BROADCASTING SYSTEM TELEVISION, INC.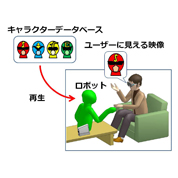 Virtual Humanoid
Michihiko SHOJI, Center for Economic Growth Strategy, Yokohama National University
Virtual Humanoid is an interactive "augmented reality" system that lets you be able to both see and touch virtual 3D characters. The system consists of a special headset, a synchronized pair of a robot and virtual 3D characters.
When you put the headset on, you will see a computer animated human overlaying the featureless robot. The headset has a pair of video cams in it, and the images captured by the cameras are transported to a PC which makes composite images of real and virtual world together in real-time. Then, through the headset, an augmented reality world can be seen.
Using Virtual Humanoid, you will be able to invite your favorite stars to your living room in the future.
This research was supported by JST.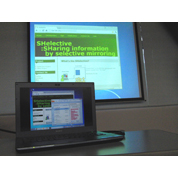 SHelective
Naemura Laboratory, The University of Tokyo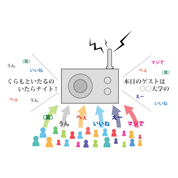 Radi-Hey
Naemura Laboratory, The University of Tokyo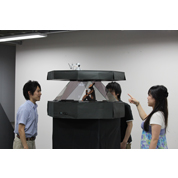 MRsionCase
Naemura Lab., The University of Tokyo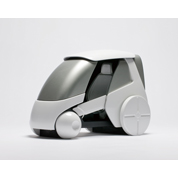 Research of Digital Lead Design Process
tokyo metropolitan university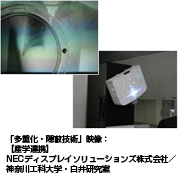 The mysterious world with projectors
NEC Display Solutions, Ltd. / Kanagawa Institute of Technology, Shirai Lab /JAPAN ELECTRONICS COLLEGE
[The mysterious world with projectors]
Projector is not only for movie and presentation! We show futuristic experiences with projectors.
"Magical glasses"The multiplexing hidden imagery is the new imaging method that has compatibility with current stereoscopic 3D projection. It can display different images for a person who is watching via glasses or naked eyes.
Quiz, translation and amazing video art that no one haven't see before…It is a magic experience to see the another world the magical glasses.
"Video mapping showcase"
A future shopping experience! A hand-bag may spark its colors and patterns. Video mapping technology, It projects three-dimensional images on a subject by a super-wide-angle video projector. It can enhance the variation of design of products, space reduction, and eye-catching displaying as a futuristic show case.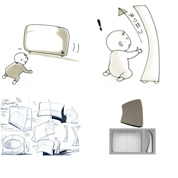 KADEN Project 2012
tokyo metropolitan university Graduate School of System Design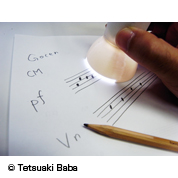 Gocen:a Handwritten Notational Interface for Musical Performance and Learning Music
Tokyo Metropolitan University , IDEEA Lab.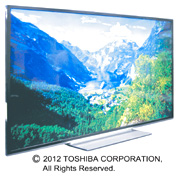 Quad Full HD (4K) TV[84 inch](Reference Exhibit)
TOSHIBA CORPORATION
Following the introduction of the world's first(* 1)"Quad Full HD (4K) TV" last year, Toshiba developed a new range of the productss that have a screen sizes 84 inch and carry Toshiba's newly developed "CEVO ENGINE 4K" platform.
Compared to Full HD TV, it has four times the number of pixels and combined with "CEVO ENGINE 4K" platform it delivers stunning picture sharpness, detail and depth.
The newly developed "CEVO ENGINE 4K" platform which delivers stunning picture sharpness, detail, depth and restoration technique enables you to enjoy Full HD movies on Blu-ray Disc with superb detail and quality and brings first-class theater experience to your living room.
*1 Noncommercial use/ liquid crystal television (Digital Hi-vision) .Investigation by Toshiba.
  *2 Blu-ray Disc™ is a trademark owned by Blu-ray Disc association.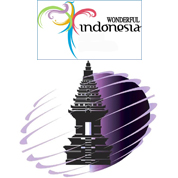 INDONESIA DIGITAL CREATIVE INDUSTRIES
Ministry of Tourism and Creative Economy Republic of Indonesia
Indonesia Digital Content Industries consist of hundreds of game developers, software developers, and animation studios. Creativity is our main advantage. With more than 200 million mobile users and more than 50 million internet users in Indonesia, digital content industry is growing very fast.
Kuassa is one of the Indonesia software developer company that specializing on guitar amplification and audio processing.
Kuassa developed Amplifikation One, a Guitar Amp Simulator which finally help you create realistic guitar tones and build great tracks immediately without any obstructive workflow or confusing parameters to handle with. Another products from Kuassa are Amplifikation Creme, Amplifikation Lite, and Kratos Maximizer.

Kuassa will giveaway 100 FREE Amplifikation Vermilion licenses at the booth at DC Expo.

Please print the voucher from the following site and bring it with you!

http://www.kuassa.com/posts/japan-get-ready-we-will-launch-amplifikation-vermilion-at-dcexpo-2012-tokyo.html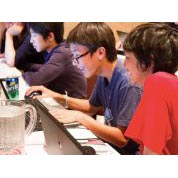 Let's play with,use and talk about:HTML5
ASCII MEDIAWORKS Inc. KADOKAWA ASCII Research Institute