"Strategic Technology Roadmap (STR) - Content-related Field" published by METI shows what essential technologies are necessary to create new content-related industries and further promote the existing industries as well. ConTex will introduce the cutting-edge studies and most advanced products related to STR and those future content-related technologies as well which will be brought about by those studies and products through demo exhibition and seminars.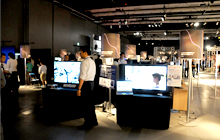 Name

Content Technology Exhibits (ConTEX) 2009
Dates

Thursday, October 22 - Sunday, October 25, 2009
Sites

National Museum of Emerging Science and Innovation (Miraikan), Tokyo, Japan
Tokyo International Exchange Center, Tokyo, Japan
Organizers

Japan's Ministry of Economy, Trade and Industry (METI)
Digital Content Association of Japan (DCAJ)
Admission

Free
* The permanent exhibit area of Miraikan requires an admission.